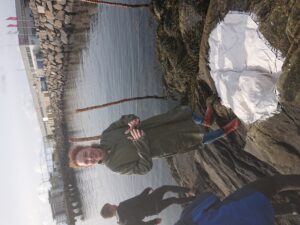 Visual artist Anne Louise Blicher. Based in Copenhagen, DK, Berlin, DE, and Molini (IT).

"Anne Louise Blicher creates site specific works that subvert classical landscape's ideals of patriarchy and ownership in favor feminist multitude and ecological balance. Blicher's work seeks to change the static postcard view of landscape by rendering nature as a sensed landscape, an ecology of dynamic parts in complex interaction with their surroundings"
(Deric Carner, curator & project manager, Elizabeth Foundation for the Arts, NYC)

BIO
A.L. Blicher is a graduate in classical painting from Florence Academy of Art (2011) and holds a postgraduate-degree in Fine Arts specialized in printmaking from The Royal Institute of Art Stockholm (2015). Her exhibition record includes public art commissions for Sønderborg Kommune, the EDC Poul Erik Bech Foundation in Varde, and Danderyd Sjukhus in Stockholm, exhibitions at SixtyEight Art Institute (DK)/Sharp Projects (DK) (solo), Charlottenborg Spring Exhibition (DK), The Danish Printmakers House (DK) (solo), Lofoten International Art Festival (NO), The Elizabeth Foundation for the Arts (NY), Fanø Art Museum (DK) (solo), Johannes Larsen Museum (DK), Grafiska Sällskapet (SE), Litografiska Akademin (SE), and Mark Rothko Art Centre (LV) among others. She has been an artist-in-residence worldwide including The Danish Institute in Athens and in Rome, Women's Studio Workshop (US), Atelier Circulaire (CA), and Künstlerhaus Lucas (DE).

STATEMENT
My work is rooted in a sculptural painting practice combining classical drawing and painting techniques with a spatial, often vertical embodiment. Thematically I work within critical plant studies. I question the still dominating concept of nature as an untouched wilderness drawn in large from Western landscape painting with its organization of the viewer's gaze, so that it can serve as a counterpart to a landscape. But in the wilderness we only see the reflection of our own longing. I want to bring thought back to its vegetal roots. As such I explore painting as a metabolic instrument outside the bodily domain; as a terraforming and topological design tool in search for visual ways to bring the positive values associated with vast horizons and wilderness closer to home by transforming landscapes into environments.

I follow, what I call, an "empathic earthbound aesthetics" based on the idea of the sublime as care referring to the sublime in its original meaning as being in-pathos/em-pathic opposite a romantic sublime related to an almighty understanding of nature. It is a state of caring sensation sensed at the limit of the body through the deleuzian body without organs surpassing the physical sensory perception but instead based on the will of phantasy in order to understand what happens in a person; what the imagination does in the object. Early research in psychology of aesthetic responses shows that to be in-pathos, to be in a state of sensitivity, "Einfühlung" (later translated into English as em-pathy) characterized by the ability to put yourself in the position of someone else by means of "der Phantasiewille", is a precondition for a real felt aesthetic experience in contradiction to something perceived only by its appearance like beauty. This resembles contemporary 'speculative aesthetics' cf. speculative realism/object-oriented ontology, where it is about identifying with things using the imagination, from which I am inspired as well.

My practice is based on a graphic anthropological approach in order to grasp our surroundings in caring ways, as I believe that we become what we draw not in form but in emotion. It is an imaginary observation technique consisting of onsite and off-site drawing aiming to activate and reach the inner essences of the surroundings. Altogether it is about 'togethering'. With reference to Heidegger's study of the concept 'nearness' we approach the surroundings through a "thinging of things" creating a feeling of togethering. By being toward something; by putting yourself in its place, you are called by the thing; "bedingt" in a 'mirror-play. This idea of a mirroring empathic bonding with the surroundings is supported by recent research in neuroscience about mirror neurons and empathic simulation, which equates human and nonhumans by showing that our simulation pattern is the same be it a three, a house or a person we interact with.

On-site the method is based on indexical inscriptions pointing to the object observed by an actual connectedness like the print of a foot. Focus is on how the mark is made, and what it leads us to see, not the actual mark itself. Off-site it consists of symbolic and hyper-iconic transcriptions of data in relation to the observations like maps, models, photos, film scenes, graphs, sketches, mind pictures, metaphors, analogies, and diagrams using different synthetic filters and selection processes. Adapted to my practice I use graphic anthropology in a metabolic way by breaking down and building up compounds and reconfiguring natural data into other expressions. Inspired by nature's inherent geometric structures, sustainable systems and quasi-crystalline formations, which like aperiodic patterns never repeat themselves but stabilize through entropic topological disordering, I work from detailed observation studies using indexical inscriptions and site-specific research data, which I unfold through synthetic transcriptions: supposed mirrorings, geometric renderings, rotating symmetries, quasi-crystalline entropic patterns, metaphors with parallel resemblance and diagrams based on inner common structures to create virtual openings.

I take inspiration from technology that modify the way we see ourselves and reshape the notion of what constitutes our environment, of what is natural and what is programmed/coded/designed/virtual. I understand nature as virtual and designed not as fake but as a foundation; as a sensed ecology of inherent structures, potential connections and resonances to be carved out of an inherent ontological indeterminacy consisting of real virtual intensities with the object having one part of itself in the virtual consisting of relations that become physical in actual, designed meetings. As I believe that the responses to anthropogenic climate changes must be equally anthropogenic, I am interested in using my practice as a terraforming design tool.

As in Benjamin Bratton's "New Copernican Turn" it is about terraforming the planet's urban infrastructures to a state, where the Earth is again suitable for human life, and where artificiality, astronomy, and automation form the basis of an alternative planetarity. The world has become the earth poetically leaving the Copernican revolution's heliocentric model with the Sun at the center of the Solar System though not going back to the Ptolemaic geocentric version of the heavens with the Earth stationary at the center of the universe. Instead it is a rotation away from human-centered design. Now it is about settling in the sky and contemplating the earth. Like in Emanuele Coccia's Cosmic Garden, where the atmosphere is the core not the earth. We inhabit the air through the atmosphere. Atmosphere being an act of gardening with plants designing air by the processes of photosynthesis. Today it is about being-of-the-air. As such I'm interested in a vertical embodiment of space, and how the body relates to a work when it is both a painting and an installation.

I dream about cultivating "affective atmospheres". Atmosphere as infrastructures for the circulation of life, matter, and energy, as we assume characteristics and nurture from the atmosphere of things and the opposite. Like a "mycorrhizae" simultaneously being a living, expanding bundle of developing connections and a relatively durable, stabilized structure; both a mental landscape and a material infrastructure I would like to create infrastructures using vegetal life dynamics as material and immaterial values. I am interested in unfolding concepts like "designed decay" and "controlled ruins" based on the compression/stretching of the matter of time in natural processes. Because when something falls apart, new forms of growth emerge, and the temporal linearity is perforated by intersecting temporalities creating a fragmented environment of juxtaposed asynchronous moments. I am interested in exploring how natural processes can be used as cultivating structures. Cf. Scott Burnham's 'nature structures' designed to nurture ecosystems and habitats by integrating nature's own forces. I want to broaden the notion of the landscape including the new biodiversity brought about by migration turning foreign soil into home by creating shelters of plants; temporary, transitional, ephemeral, migrative, and affective atmospheric infrastructures, which make room for investment, belonging and bonding; how interconnecting forces, inconsistency, and intersecting temporalities can reframe the landscape topographically setting a stage for something yet to come.

CV
EDUCATION
Master in Design, The Royal Danish Academy of Fine Arts, School of Architecture, Design and Conservation, Copenhagen,

DK

(2017- 2018) (1. part 30

ETCS

)
Postgraduate project studies, specialized in printmaking, Royal Institute of Art, Stockholm,

SE

(2014–15)
Diploma in classical painting, bachelor level, Florence Academy of Art, Gothenburg,

SE

and Florence,

IT

(2008 ‑11)
Master of Science in Information Technology,

IT

university of Copenhagen,

DK

(2004 — 2006). Exchange to The Royal Danish School of Design in the subject 'Staging of public space' (2005). Final thesis 'Pervasive Gaming: piracy of reality' about the way digital technology can extend the game experience to the physical world and stage the surroundings in new ways.
SOLO EXHIBITIONS
2022, Grief Shrine of growth — Two Moons, part of The Curatorial Thing, SixtyEight Art Institute in collaboration with the gallery Sharp Projects, Copenhagen,

DK

2022, Vertical Ocean, Udstillingsstedet.dk, Sorø,

DK

2021, Rotations of the Heaven. Entropic Cosmos, Danske Grafikeres Hus, Copenhagen,

DK

2019, To Draw A Line,

SE

! udstillingsrum, Århus,

DK

(duo — Trine Bork)
2018, Frozen Hawaii, Toldboden, Kerteminde,

DK

2017, The Animal Glow, Atelier Circulaire, Centre d'arts imprimés, Montréal, Québec,

CA

2016, Uncover, Fanø Kunstmuseum, Fanø,

DK
PUBLIC ART COMMISSIONS
2022 — 2024, A Vertical Borderland, Danderyds sjukhus, etapp 2, ny vårdbyggnad 61, plan 3 — Endoskopi/Kirurgi, Stockholm region,

SE

2022 — 2023, The upside-down Kitchen Garden, public installation at a new day care centre in Hørup, Als commissioned by Sønderborg Kommune,

DK

2023, The way of the pearl mussel, 2 outdoor wall sculptures commissioned by

EDC

Poul Erik Bech Foundation for Varde Garten, Varde,

DK

2018, Foam 6

&

9, outdoor lamppost using solar power, designed for the company SeaSafe,

DK
GROUP EXHIBITIONS IN SELCETION
2022
NAA

X Winter exhibition, Nordic Art Agency, Malmö,

SE

KP22

, Kunsthal Aarhus,

DK

Thinking of Place

III

, international printmaking collaboration, travelling exhibition, Impact 12, International Print Conference, Bristol,

UK

, North Site Contemporary Arts, Cairns,

AU

, Corben's Estate Art Centre, Auckland,

NZ

, Studio 1, Ponsonby,

NZ

, Thompson River University Art Gallery, Kamloops,

CA

, Forma Gallery, Buenos Aires,

AR
2021
Spring Exhibition, Charlottenborg Kunsthal, Copenhagen,

DK

KP20

, Kunsthal Aarhus,

DK

Memories, Galleria Napa, Rovaniemi,

FI

Collection Mini Print Cantabria, La Mer et les Phares à Bordeaux, Cervantes Institute, Bordeaux,

FR
2020
The Knot Collective, Galerie Ménil'8, Paris,

FR

Old School, Danske Grafikeres Hus, Copenhagen,

DK
2019
The Kelp Congress curated by Hilde Methi, Neal Cahoon, Karolin Tampere,

&

Torill Østby Haaland, Lofoten International Art Festival (

LIAF

), Lofoten,

NO

Kunstscenen Is Closing, Kunstscenen, Copenhagen,

DK

International Mini Print Cantabria, Faro Cabo Mayor Art Center,

ES

Summerworks — Anne Louise Blicher

&

Patte Loper / Moa Alskog

&

Xin Son / Wilfred Wagner

&

Paul John / Anne Mette Schultz

&

Alex Gingrow, The Elizabeth Foundations for the Arts , New York City,

US

Fugl, Johannes Larsen Museet, Kerteminde,

DK

Klimakunst 2019, Rebildcentret,

DK

Spazi Aperti, Accademia di Romania, Rome,

IT

/77, art space, Milan,

IT

Over the Bridge, Grafik i Väst, Gothenburg,

SE

Portrait Now! 2019, The Museum of National History, Frederiksborg Castle,

DK

and Ljungberg Museum, Ljungberg, SE

The Knot Collective, Raum für drastische Massnahmen, Berlin,

DE

Fyns Grafiske Værksted, Mark Rothko Art Center, Daugavpils,

LV

Performance and Proces with a graphical starting point, Grafiska Sällskapet,

SE
2018
Performance and Proces with a graphical starting point, Danske Grafikeres Hus,

DK

Velvet Ropes, Nevven Gallery, Göteborg,

SE

/initiated by 0–0

LA

fine art gallery, Los Angeles,

US

Velvet Ropes, Galleri Golsa, Oslo,

NO

/initiated by 0–0

LA

fine art gallery, Los Angeles,

US

Neon Camouflage, Impact Encuentro, Printmaking Conference, Santander,

ES

Svart Färg, Den Grafiska Gerillan, Galleri Ateljé Ur, Malmö,

SE

Discoveries, Gallery Heike Arndt Kettinge,

DK

/Fresh Legs, Galleri Heike Arndt, Berlin,

DE

17

INTERBIFEP

, International Biennial Festival of Portrait, Tuzla Culture Center, Tuzla,

BA

9th International Printmaking Biennial of Duoro 2018, Duoro,

PT

Luftlinie, Ahrenshoop Art Museum, Mecklenburg-Western Pomerania,

DE
2017
3rd Global Print Biennial,

PT

The Black School, Kastrupgård Samlingen,

DK
2016
Elevator Music 3 curated by Dahlia Elsayed, Gallery Aferro, Newark, New Jersey,

US

The Black School, Brandts,

DK

Djuren with Helmtrud Nyström, Katinka Andersson and Mattias Bäcklin, Konstfrämjandet Bergslagen, Örebro,

SE
2015
4th International Latgale Graphic Symposium, Mark Rothko Art Center, Daugavpils,

LV

Addition, Grafiska Sällskapet, Stockholm,

SE

The 7:th International Lithographic Symposium, Litografiska Akademin, Tidaholm,

SE

Portrait Now! 2015, The Museum of National History, Frederiksborg Castle, Frederiksborg,

DK and Ljungberg Museum, Ljungberg, SE
RECIDENCIES
Klitgården Refugium, Skagen,

DK

(2023)
Atelier Madeleine Paris by Grafiska Sällskapet,

FR

(2022)
The Danish Institute, Athens,

GR

(2021)
Hjørring Grafiske Værksted, Hjørring,

DK

(2021)
The Danish Institute, Rome,

IT

(2020)
The Elizabeth Foundation for the Arts in collaboration with Bikuben Foundation New York and Art Hub Copenhagen,

NY

,

US

(2019)
The Danish Institute, Rome,

IT

(2019)
Künstlerhaus Lucas, Ahrenshoop,

DE

(2019)
Green Olives Art, Tétouan,

MA

(2018)
Atelier Circulaire, Montreal, Quebec,

CA

(2017)
Atelier Bo Halbirk, Paris,

FR

(2017)
Danish Art Workshops, Copenhagen,

DK

(2016)
Women's Studio Workshop, Rosendale, New York,

US

(2016)
Rothko Art Center, Daugavpils,

LV

(2015)
Camac Art Center, Marnay sur Seine,

FR

(2015)
The Danish Institute, Athens,

GR

(2012)
School of Visual Art (

SOVA

), Dawson,

CDN

(2011)
Art Meeting, West Bengal Federation of United Nations Associations (

WEBFUNA

)

&

Indian Council for Cultural Relation (

ICCR

, Kolkata

IND

(2011)
Palangos Dailė, the Artists' House of the Lithuanian Artists' Association,

LT

(2011)
GRANTS
Rådet for Visuel Kunst (Copenhagen Visual Arts Council) (2021,2022)
Grosserer L. F. Foghts Fond (2021)
Danish Arts Foundation traveling grant (2019)

KKV

Grafik Malmö traveling grant (2019)
The Danish Institute Rome (2019)
William

&

Hugo Evers Fond (2010, 2012, 2019)
The Danish Arts Foundation (2018)
Beckett Fonden (2016, 2017)
Den Hielmstierne-Rosencroneske Stiftelse (2016)
Knud Højgaards Fond (2008, 2016)
Glashandler Johan Franz Ronges Fond (2009, 2016)
Aage og Johanne Louis-Hansen Fond (2016)
Georg Harms Fond (2011, 2014)
Den Ingwersenske Fond (2009, 2011, 2014)
Fondet for Dansk Svensk Samarbejde (2014)
Unesco-Aschberg Bursary, Changdong Art Studio, The National Museum of Contemporary Art, Seoul,

ROK

(2012)
WORKSHOPS & PRESENTATIONS
Can a Garden Function as a System of Thoughts? Representation of the City: Imagining and Reimagining Cityscape

,

NSU

winter Symposium, the Latvian Centre for Performance Art, Riga,

LV

, (February, 2020)

Art in Rural Communities —

CCCA

Workshop No. 4, Møn,

DK

, (August, 2019)
Graphic Anthropology – an imaginary documentation tool — talk at Site, Material, and Medium in Socially Engaged Art —

CCCA

Workshop No. 3, Århus,

DK

, (March, 2019)
Site-specific sensoric notation workshop in collaboration with Boers-Li Gallery, New York, (July, 2019)

ICA

2019 Belgrade: 21st International Congress of Aesthetics. Paper: An Empathic Aesthetics of the soil. The Design of No-thing. Published in the 21. International Congress of Aesthetics 2019's Congress Proceedings book. (July, 2019)
Initiator with artist Åse Eg of the project Performance and Proces with a graphical starting point with 10 printmakers from the Danish and the Swedish printmaking organizations. Seminar, collective drawing exercises, printmaking workshop and exhibitions at Danish Printmakers House,

DK

and Grafiska Sällskapet,

SE

(2018–19).
Vertical Horizon, Performance at Danske Grafikeres Hus, Copenhagen,

DK

(October 30, 2018)
Appearances of the Political,

NSU

Winter Symposium, University of Copenhagen,

DK

(February, 2018)
OTHER ACTIVITIES
Art teacher at

ARKEN

, Museum of Contemporary Art, Ishøj,

DK

(2014-) and at Thorvaldsen's Museum, Copenhagen,

DK

(2013-)
Developed teaching material to the touring exhibition Down to Earth — Danish Painting 1780 — 1920 and the Anthropocene Landscape created between Faaborg Museum, Fulgsang Museum, Ribe Museum, and Hirschsprung Collection,

DK

(2017- 2018)
Initiated a workshop about portraits in art in relation to the exhibition Keeping up Appearances. Portraits and Emotions in the Golden Age for Hirschsprung (2018)
Assistent/studio manager to artist Kirstine Roepstorff (2011 — 2013, 2015 — 2017)
Assistant to sculptor Bjørn Nørgaard (2011)
MEMBER OF
Kunstnersamfundets Billed sektion (The Royal Danish Academy of Fine Arts, member of the Society of Artists)

BKF

(Danish visual artists)

KRO

(The Swedish Artist's National Organization)
Danish Printmakers
Grafiska Sällskapet (The Swedish Printmakers' Association)

KKS

(The Danish Women's Artist association)

CCCA

(the international research network: Collaboration and Community-Building in Contemporary Art)

NSU

(Nordic Summer University) — a nomadic academic institution for research and interdisciplinary studies that organises workshop-seminars across disciplinary and national borders. Part of the study circle: Appearances of the Political