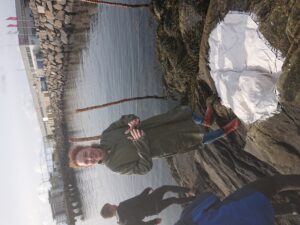 Visual artist Anne Louise Blicher. Based in Copenhagen, DK.
"Anne Louise Blicher creates site specific works that subvert classical landscape's ideals of patriarchy and ownership in favor feminist multitude and ecological balance. Blicher's work seeks to change the static postcard view of landscape by rendering nature as a sensed landscape, an ecology of dynamic parts in complex interaction with their surroundings"
(Deric Carner, curator & project manager, Elizabeth Foundation for the Arts, NYC)
EDUCATION
Master in Design, The Royal Danish Academy of Fine Arts, School of Architecture, Design and Conservation, Copenhagen,

DK

(2017- 2018) (1. part 30

ETCS

)
Postgraduate project studies, specialized in printmaking, Royal Institute of Art, Stockholm,

SE

(2014–15)
Diploma in classical painting, bachelor level, Florence Academy of Art, Gothenburg,

SE

and Florence,

IT

(2008 ‑11)
Master of Science in Information Technology,

IT

university of Copenhagen,

DK

(2004 — 2006). Exchange to The Royal Danish School of Design in the subject 'Staging of public space' (2005). Final thesis 'Pervasive Gaming: piracy of reality' about the way digital technology can extend the game experience to the physical world and stage the surroundings in new ways.
SOLO EXHIBITIONS
2022, Grief Shrine — The Loss of the World As we known it, part of The Curatorial Thing, SixtyEight Art Institute in collaboration with the gallery Sharp Projects, Copenhagen,

DK

2022, Vertical Ocean, Udstillingsstedet.dk, Sorø,

DK

2021, Rotations of the Heaven. Entropic Cosmos, Danske Grafikeres Hus, Copenhagen,

DK

2019, To Draw A Line,

SE

! udstillingsrum, Århus,

DK

(duo — Trine Bork)
2018, Frozen Hawaii, Toldboden, Kerteminde,

DK

2017, The Animal Glow, Atelier Circulaire, Centre d'arts imprimés, Montréal, Québec,

CA

2016, Uncover, Fanø Kunstmuseum, Fanø,

DK
PUBLIC ART COMMISSIONS
2022 — 2024, A Vertical Borderland, Danderyds sjukhus, etapp 2, ny vårdbyggnad 61, plan 3 — Endoskopi/Kirurgi, Stockholm region,

SE

2022 — 2023, The upside-down Kitchen Garden, public installation at a new day care centre in Hørup, Als commissioned by Sønderborg Kommune,

DK

2023, The way of the pearl mussel, 2 outdoor wall sculptures commissioned by Varde Garten, Varde,

DK

2018, Foam 6

&

9, outdoor lamppost using solar power, designed for the company SeaSafe,

DK
GROUP EXHIBITIONS IN SELCETION
2022
NAA

X Winter exhibition, Nordic Art Agency, Malmö,

SE

KP22

, Kunsthal Aarhus,

DK

Thinking of Place iii, international printmaking collaboration, travelling exhibition, Impact 12, International Print Conference, Bristol,

UK

, North Site Contemporary Arts, Cairns,

AU

, Corben's Estate Art Centre, Auckland

&

Studio 1, Ponsonby,

NZ

, Thompson River University Art Gallery, Kamloops,

CA

, Forma Gallery, Buenos Aires,

AR
2021
Spring Exhibition, Charlottenborg Kunsthal, Copenhagen,

DK

KP20

, Kunsthal Aarhus,

DK

Memories, Galleria Napa, Rovaniemi,

FI

Collection Mini Print Cantabria, La Mer et les Phares à Bordeaux, Cervantes Institute, Bordeaux,

FR

Thinking of Place iii, international printmaking collaboration, Studio 1, Ponsonby,

NZ
2020
The Knot Collective, Galerie Ménil'8, Paris,

FR

Old School, Danske Grafikeres Hus, Copenhagen,

DK
2019
The Kelp Congress curated by Hilde Methi, Neal Cahoon, Karolin Tampere, and Torill Østby Haaland, Lofoten International Art Festival (

LIAF

), Lofoten,

NO

Kunstscenen Is Closing, Kunstscenen, Copenhagen,

DK

International Mini Print Cantabria, Faro Cabo Mayor Art Center,

ES

Summerworks — Anne Louise Blicher

&

Patte Loper / Moa Alskog

&

Xin Son / Wilfred Wagner

&

Paul John / Anne Mette Schultz

&

Alex Gingrow, The Elizabeth Foundations for the Arts , New York City,

US

Fugl, Johannes Larsen Museet, Kerteminde,

DK

Klimakunst 2019, Rebildcentret,

DK

Spazi Aperti, Accademia di Romania, Rome,

IT

/77, art space, Milan,

IT

Over the Bridge, Grafik i Väst, Gothenburg,

SE

Portrait Now! 2019, The Museum of National History, Frederiksborg Castle,

DK

and Ljungberg Museum, Ljungberg, SE

The Knot Collective, Raum für drastische Massnahmen, Berlin,

DE

Fyns Grafiske Værksted, Mark Rothko Art Center, Daugavpils,

LV

Performance and Proces with a graphical starting point, Grafiska Sällskapet,

SE
2018
Performance and Proces with a graphical starting point, Danske Grafikeres Hus,

DK

Velvet Ropes, Nevven Gallery, Göteborg,

SE

/initiated by 0–0

LA

fine art gallery, Los Angeles,

US

Velvet Ropes, Galleri Golsa, Oslo,

NO

/initiated by 0–0

LA

fine art gallery, Los Angeles,

US

Neon Camouflage, Impact Encuentro, Printmaking Conference, Santander,

ES

Svart Färg, Den Grafiska Gerillan, Galleri Ateljé Ur, Malmö,

SE

Discoveries, Gallery Heike Arndt Kettinge,

DK

/Fresh Legs, Galleri Heike Arndt, Berlin,

DE

17

INTERBIFEP

, International Biennial Festival of Portrait, Tuzla Culture Center, Tuzla,

BA

9th International Printmaking Biennial of Duoro 2018, Duoro,

PT

Luftlinie, Ahrenshoop Art Museum, Mecklenburg-Western Pomerania,

DE
2017
3rd Global Print Biennial,

PT

The Black School, Kastrupgård Samlingen,

DK
2016
Elevator Music 3 curated by Dahlia Elsayed, Gallery Aferro, Newark, New Jersey,

US

The Black School, Brandts,

DK

Djuren with Helmtrud Nyström, Katinka Andersson and Mattias Bäcklin, Konstfrämjandet Bergslagen, Örebro,

SE
2015
4th International Latgale Graphic Symposium, Mark Rothko Art Center, Daugavpils,

LV

Addition, Grafiska Sällskapet, Stockholm,

SE

The 7:th International Lithographic Symposium, Litografiska Akademin, Tidaholm,

SE

Camac Art Center, Marnay sur Seine,

FR

Portrait Now! 2015, The Museum of National History, Frederiksborg Castle, Frederiksborg,

DK and Ljungberg Museum, Ljungberg, SE
RECIDENCIES
Klitgården Refugium, Skagen,

DK

(2023)
Atelier Madeleine Paris by Grafiska Sällskapet,

FR

(2022)
The Danish Institute, Athens,

GR

(2021)
Hjørring Grafiske Værksted, Hjørring,

DK

(2021)
The Danish Institute, Rome,

IT

(2020)
The Elizabeth Foundation for the Arts in collaboration with Bikuben Foundation New York and Art Hub Copenhagen,

NY

,

US

(2019)
The Danish Institute, Rome,

IT

(2019)
Künstlerhaus Lucas, Ahrenshoop,

DE

(2019)
Green Olives Art, Tétouan,

MA

(2018)
Atelier Circulaire, Montreal, Quebec,

CA

(2017)
Atelier Bo Halbirk, Paris,

FR

(2017)
Danish Art Workshops, Copenhagen,

DK

(2016)
Women's Studio Workshop, Rosendale, New York,

US

(2016)
Rothko Art Center, Daugavpils,

LV

(2015)
Camac Art Center, Marnay sur Seine,

FR

(2015)
The Danish Institute, Athens,

GR

(2012)
School of Visual Art (

SOVA

), Dawson,

CDN

(2011)
Art Meeting, West Bengal Federation of United Nations Associations (

WEBFUNA

)

&

Indian Council for Cultural Relation (

ICCR

, Kolkata

IND

(2011)
Palangos Dailė, the Artists' House of the Lithuanian Artists' Association,

LT

(2011)
GRANTS
Rådet for Visuel Kunst (Copenhagen Visual Arts Council)(2021,2022)
Grosserer L. F. Foghts Fond (2021)
Danish Arts Foundation traveling grant (2019)

KKV

Grafik Malmö traveling grant (2019)
The Danish Institute Rome (2019)
William

&

Hugo Evers Fond (2010, 2012, 2019)
The Danish Arts Foundation (2018)
Beckett Fonden (2016, 2017)
Den Hielmstierne-Rosencroneske Stiftelse (2016)
Knud Højgaards Fond (2008, 2016)
Glashandler Johan Franz Ronges Fond (2009, 2016)
Aage og Johanne Louis-Hansen Fond (2016)
Georg Harms Fond (2011, 2014)
Den Ingwersenske Fond (2009, 2011, 2014)
Fondet for Dansk Svensk Samarbejde (2014)
Unesco-Aschberg Bursary, Changdong Art Studio, The National Museum of Contemporary Art, Seoul,

ROK

(2012)
WORKSHOPS & PRESENTATIONS
Can a Garden Function as a System of Thoughts? Representation of the City: Imagining and Reimagining Cityscape

,

NSU

winter Symposium, the Latvian Centre for Performance Art, Riga,

LV

, (February, 2020)

Art in Rural Communities —

CCCA

Workshop No. 4, Møn,

DK

, (August, 2019)
Graphic Anthropology – an imaginary documentation tool — talk at Site, Material, and Medium in Socially Engaged Art —

CCCA

Workshop No. 3, Århus,

DK

, (March, 2019)
Site-specific sensoric notation workshop in collaboration with Boers-Li Gallery, New York, (July, 2019)

ICA

2019 Belgrade: 21st International Congress of Aesthetics. Paper: An Empathic Aesthetics of the soil. The Design of No-thing. Published in the 21. International Congress of Aesthetics 2019's Congress Proceedings book. (July, 2019)
Initiator with artist Åse Eg of the project Performance and Proces with a graphical starting point with 10 printmakers from the Danish and the Swedish printmaking organizations. Seminar, collective drawing exercises, printmaking workshop and exhibitions at Danish Printmakers House,

DK

and Grafiska Sällskapet,

SE

(2018–19).
Vertical Horizon, Performance at Danske Grafikeres Hus, Copenhagen,

DK

(October 30, 2018)
Appearances of the Political,

NSU

Winter Symposium, University of Copenhagen,

DK

(February, 2018)
OTHER ACTIVITIES
Art teacher at

ARKEN

, Museum of Contemporary Art, Ishøj,

DK

(2014-) and at Thorvaldsen's Museum, Copenhagen,

DK

(2013-)
Developed teaching material to the touring exhibition Down to Earth — Danish Painting 1780 — 1920 and the Anthropocene Landscape created between Faaborg Museum, Fulgsang Museum, Ribe Museum, and Hirschsprung Collection,

DK

(2017- 2018)
Initiated a workshop about portraits in art in relation to the exhibition Keeping up Appearances. Portraits and Emotions in the Golden Age for Hirschsprung (2018)
Assistent/studio manager to artist Kirstine Roepstorff (2011 — 2013, 2015 — 2017)
Assistant to sculptor Bjørn Nørgaard (2011)
MEMBER OF
Kunstnersamfundets Billed sektion (The Royal Danish Academy of Fine Arts, member of the Society of Artists)

BKF

(Danish visual artists)

KRO

(The Swedish Artist's National Organization)
Danish Printmakers
Grafiska Sällskapet (The Swedish Printmakers' Association)

KKS

(The Danish Women's Artist association)

CCCA

(the international research network: Collaboration and Community-Building in Contemporary Art)

NSU

(Nordic Summer University) — a nomadic academic institution for research and interdisciplinary studies that organises workshop-seminars across disciplinary and national borders. Part of the study circle: Appearances of the Political