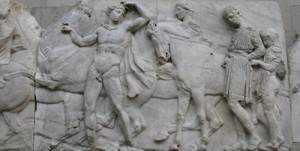 The Danish Institute at Athens supports work of Danish creative artists and craftsmen and has invited me to stay in their guesthouse in April!

In art school I was taught basic drawing skills based on litographs and plaster casts of antique sculptures. To be able to study the classical Greek sculptures and friezes with motives from the Greek mythology like the frieze of Parthenon in real life will be amazing.

During my stay my idea is to work with the Greek myths in natural settings — that is I will depict people on foot, on horseback, in carriages, with tools and animals and the different gods like Helios, Dionysus, Demeter, Artemis, Hephaistos and Aphrodite with their artefacts in a realistic manner.

I will work with different sequences of history and figures and try to visualize the myths once more.
Not the least I'm looking forward to experience the Greek Orthodox Easter.